I recently went thrift store shopping with my sister to see if I could find anything that would inspire some creativity. And boy did I find it! Enough to get my creative juices flowing for about a month as far as the blog is concerned. I am really excited to do all the projects and post them so you can give them a try too! The best thing about all this is that it costs hardly anything! And if you know me, you know that I am such a penny pincher! Anyways, on to the project!
So I found these beauties at a thrift store for $1.00 each! I am going to show you how to re-purpose those old picture frames into something you love!
Did I mention how I adore the tops of these frames? They are so girly with the flowers and the ribbon and just the complete femininity that totally encompasses the whole piece! I digress......
So the first step is to take the backing, picture and glass out of the frame and set them aside. Then give the frame a good going over with a rag and some soap. Everything from a thrift store seems to have this invisible grit that sticks to the item and your hands every time you touch it! Get all the grit off and then make sure you let the frame dry completely, don't dry it with a towel because then you will have a fuzzy frame and that is just not acceptable!
Once you got it all cleaned up and dried you need to get something to protect the ground from the spray paint. I used the newspaper they wrapped my items up with at the thrift store. :) (Penny pincher, remember?)
Stephanie's Tips: Don't spray paint anywhere near anyone's car.
Spray a coat on and then let dry for about 10-30 min depending on where you live. We live in a place where it's so dry and so hot that if you stepped out of the shower and went outside you would be completely dry in less than 2 minuets! No kidding! After the first coat is all dry then you can add the second coat and let dry over night.
Stephanie's Tips: Don't spray paint with your wedding ring on.
I however did the first coat and had to let it dry over night because I had an engagement with friends and couldn't spray the second coat until I got back. When I opened the patio door there was a miserable suprise waiting for me....
Bubbles and cracks in the paint! Oh no! What a horrible thing to of happened! But wait! There is hope! I remember a saying from a scrapbooking retreat; "It's not a mistake, it's a chance to embellish!". Spray painting is fun, but why pass up a chance to embellish? It just so happens that a blog I love recently posted something quite similar to what I am doing, but more professional. They did some totally awesome embellishing that I tried out to fix my spray paint boo-boo.
Click the picture for their how-to step-by-step blog on distressing frames: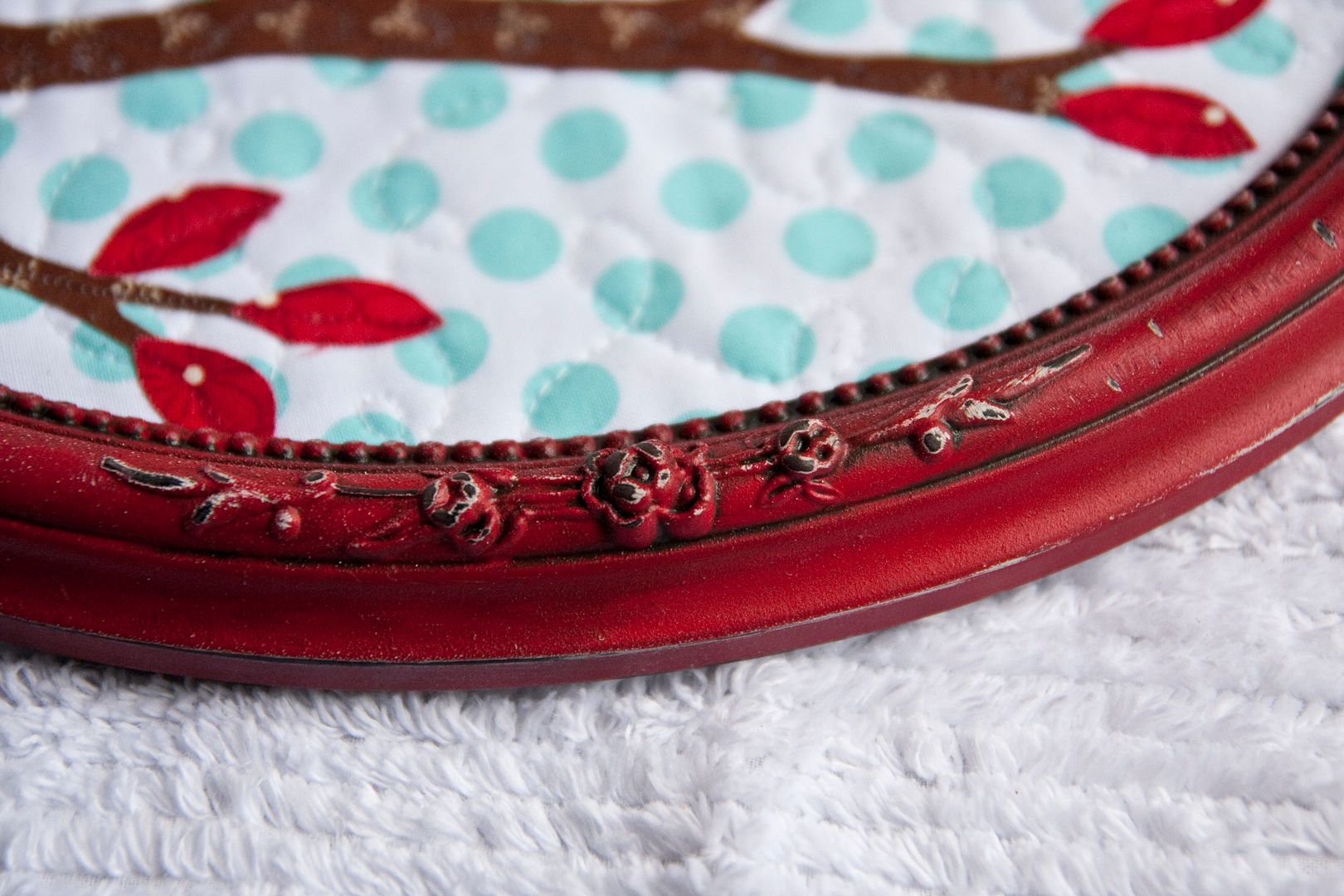 Little Birdie Secrets featuring:
So I got out my sandpaper and started scrubbing!
Half way through I had to stop and run to the store because the one piece of sandpaper that I had basically crumbled to pieces in my fingers! (I had to go to the store anyways to find some tinted glaze since I had none.) I really like the gold showing through after sanding it down a bit.
Instead of tinted glaze I found some antiquing glaze which was cheaper than the only tinted glaze Lowe's had on hand. It was about $8.00 at Lowe's.
To use this antiquing glaze you must wait until your project is completely dry from the last coat of paint, then you take a paint brush with bristles and basically coat the piece. Those bristles come in handy when you have little crevices that need a good glob but you just can't seem to reach them with a sponge brush.
Stephanie's Tips: Wear disposable gloves so you don't ruin your manicure. ;)
After you have covered the entire piece you take a damp scrap rag and lightly wipe off the excess glaze. It should be stuck in those little crevices and in the lines, to me it kind of looks like two 100 year old frames that were found inside of an old farm house. And that exactly is what I was going for! Let the piece dry for 24 hours then spray with a protective finish to keep your frames looking old!
Clean the glass before you put any pictures in, no water spots for me, no thanks! Make sure they are dry too, no water damaged prints please! I have two friends who recently got married and I wanted to give them these frames since they kind of, in a way, also inspired these
antique
Victorian/ Edwardian style frames. I simply used pictures off of their Facebook, downloaded and printed, cut and placed them in the frames. I sure hope they like them!
Stephanie's Tips: These make great gifts!
Enjoy!
We are now linked up at: